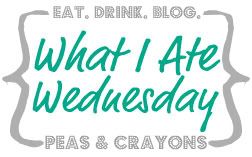 Hi everybody! Guess what? It's the first day of February AND it's the first What I Ate Wednesday of the month! If you haven't heard of What I Ate Wednesday before, click on the picture and find out!
I can't believe that January is already over. It feels like just yesterday I was dancing around in the club like a crazy person ringing in the New Year with Brent and coming up with my New Years resolutions.
I wish I was better at taking pictures of the stuff that I eat for you guys – I'm sorry!
I woke up around 8:00am and made myself a big bowl of oatmeal to hold me over during my morning classes. On my way to school, I stopped at Subway to pick up my usual 6-inch Cold Cut Combo on wheat bread with lettuce, tomatoes, cucumbers, spinach and "just a little bit" of honey mustard dressing. I shoved down my sandwich in between my class that gets out at 12:15pm and my class that starts at 12:30pm. My crazy Asian Religions professor for my 12:30pm class doesn't allow eating, even though his class is right in the middle of lunchtime. What a jerk!
By the time my classes got out at 3:15pm, I was starving and decided to splurge a little bit on Spicy Shrimp sushi from Stop&Shop – my favorite. I wish that sushi was cheaper because I could seriously eat it every day for lunch and dinner. I was so exhausted from school, that I ended up passing out at 5pm and sleeping until 8. Whoops. While working on some Spanish homework and watching the movie Drive with Brent, I munched on Chavrie goat cheese with Wheat Thins. Later, I was still hungry, so I ate some of the split pea soup that Brent's mom made with a side of two delicious Blueberry Protein Muffins.
Completely changing the subject, I'm already on my second book since I gave you guys my book reviews for January! I seriously read Greg Iles' Blood Memory in less than 48 hours. I could not put this book down! I stayed up until 4am one night just to finish it. I can't recommend this book enough. Greg Iles was already one of my favorite authors after I read Turning Angel, but this book definitely bumped him up the list even more. I can't wait to read another one of his novels. The book I'm reading now is My Name is Memory by Ann Brashares (she's the one who wrote Sisterhood of the Traveling Pants!). I'm normally not a huge fan of Young Adult novels (except Hunger Games of course!), but I had to read this after glancing at the back of the book. I'm about 100 pages in and I'm in love.