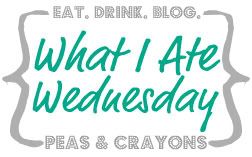 Going along with this month's special What I Ate Wednesday theme, instead of giving you the normal play-by-play of my eats, I'm going to tell you about all my favorite vegetables.
I love this idea! If you haven't noticed, I'm super crazy about my veggies. I could eat vegetables all day long and be perfectly happy. That's a big reason why I decided to become a vegetarian last year, although I went back to eating meat two months ago.
Some people have problems making themselves at vegetables. This is where Green Giant Steamers come in handy. When I know I need to be eating healthy, but I'm just not "feelin' it", I'll reach for one of these babies. You barely even notice you're eating vegetables because they taste so good! My favorite varieties are Potatoes & Green Beans, Broccoli & Rice with Cheese Sauce, and Cauliflower with Cheese Sauce. I'm a huge fan of frozen vegetables in general. They're so much cheaper than fresh and the quality is practically just as good.
(Disclaimer: I'm not being paid by Green Giant for my opinions. I honestly just love the crap out of their products!)
Favorite Vegetables
Onions

Garlic

Bell Peppers

Broccoli

Zucchini

Squash (any kind!)

Lettuce

Spinach

Mushrooms

Cucumbers

Green Beans
Seriously… I'm up for anything. The only vegetables I really don't like are carrots, eggplant, and peas.
Favorite Recipes Featuring Veggies
Don't forget to check out my Recipe Page for even more veggie recipes!