Wow, for the first time in forever, I actually remembered to do a What I Ate Wednesday post, haha! Thanks for hosting the party, Peas and Crayons!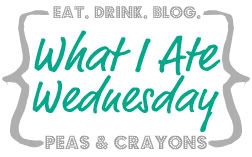 I don't really have pictures from one particular day, but here's what a typical day of eats has been looking like for me lately:
Breakfast:
Oatmeal has always been one of my favorite breakfasts. It pretty much blows every other breakfast out of the water, in terms of being good for you. Not only is it super filling, it also has a ton of protein and fiber with very few calories!
Even though I've been a huge fan of making my own oatmeal in the past, recently I've been buying the high-fiber instant oats. I get the generic Shaw's or Stop & Shop brand, but it's basically the same as the picture above.
To make it, I'll combine two packets of oatmeal with 1 cup of milk, and microwave for a few minutes. This breakfast (with 1% milk) is 422 calories, 20g of fiber, and 16.2g of protein. Wow!! And the best part is that I stay full for HOURS after eating this.
Another great breakfast option that I really like is eggs. My favorite is two over-easy eggs with two pieces of whole wheat toast (unbuttered) and sprinkle of salt and pepper.  With 2 large white eggs and two pieces of Fiber One 100% whole wheat toast, this breakfast racks in at 340 calories, 12g of fiber, and 20g of protein.
Lunch:
I know that I've been going on and on about this meal lately, but it really is my absolute favorite thing to have for lunch. I think that I could eat this for the rest of my life and not get sick of it
What I do for this is boil up and shred some chicken breasts (I use about 6 oz), prepare 1.5 cups of frozen chopped broccoli, and cook up 1/3 cup (uncooked) of Israeli couscous. When everything's done, I mix it all together with 2 tbsp of olive oil, and sprinkle in some spices (I use salt, pepper, cayenne pepper, paprika, onion powder, and garlic powder). It's SO GOOD.
This lunch has 680 calories (without the olive oil, it's only 440 calories), 5.6g of fiber, and 42.4g of protein.
Supper:
This definitely depends on the day. Some recent recipes I've made are:
Snacks:
Cereal is one of my favorite snacks. Lately I've really been into the original Special K. It's kinda boring, but for some reason I really like it. Also, it's got pretty good nutrition stats (1 cup has 110 calories and 7 grams of protein. Combined with a cup of milk, it's got 15g of protein!).
I've been really into chips and salsa. I wish they made whole wheat tortilla chips (well, they probably do… I just can't find them at the grocery store), but it's still a pretty good snack. The salsa counts as a serving of vegetables, and most tortilla chips have at least a few grams of fiber and protein!
Protein smoothies are another great snack that I have all the time. I just got the Fitmixer Vanilla Milkshake protein powder for my birthday, and have been loving it so far!
My go-to shake is a mix of: 2 scoops of protein powder, 1.5 cups of 1% milk, and 1 cup frozen strawberries. This has 418 calories, 9g of fiber, and 44g of protein.
Sometimes I'll switch it up a little bit and use some of the fresh fruit that's around as well. The smoothie in the picture above is one of my favorites — my Pineapple Strawberry Protein Smoothie.
Tell me what one of your favorite snacks is!