Wow, this week seems to be racing by! I can't believe it's already Wednesday.
I've been doing really well with eating healthy lately and I was particularly impressed with my Sunday eats, which is what you're seeing today. Usually I get hungry pretty easily and am constantly snacking (healthily) throughout the day. Since I've been working on portion control and just not eating quite so much in general, I think my body is finally getting used to eating a little bit less. So, even though on Sunday I had breakfast at 8am, lunch at 1:30pm, and dinner at 7pm, I didn't snack at all in between meals… because I wasn't even hungry!
This makes me so happy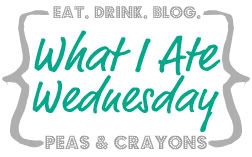 #1: Breakfast
Three sunny-side up eggs (only because I apparently lost the ability to flip my eggs) on whole-wheat unbuttered toast with a glass of orange juice that had 4 tsp of fiber powder (6g) in it.
Un-pictured: 1 cup of coffee with 2 packets of Splenda & 2 tbsp of Cinnabon creamer.
#2: Lunch
Mashed sweet potato: (1) Peel & cube two sweet potatoes, (2) boil sweet potatoes in salted water until very tender, (3) mash with potato masher, (4) season with salt, pepper, cinnamon, and 2 tbsp Splenda Brown Sugar Blend.
PERFECTION.
#3: Dinner
Slow Cooker Enchilada Soup… recipe coming soon! You're not gonna want to miss this one!! It was soooo tasty and both Brent and I really, really liked it. It was perfect for a cozy, snowy night
#4: Dessert
Just because I'm eating very healthy doesn't mean that I don't get to sneak in a little bit of dessert
Especially when that dessert is my favorite Ben & Jerry's flavor — Chunk Monkey — that was on sale for $2.99!!!